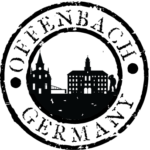 What are your three favourite insider tips of your city? These could be a restaurant, museum, exhibition, special place or view, artist, shop etc.

What is your favourite song at the moment?

What is your favourite book at the moment?
1.
* The exquisite cheese manufactory "L´Abbate Käsefabrik", located in the heart of Offenbach, was founded more than 40 years ago. Bieberer Straße 23, 63065 Offenbach.
* Der Offenbacher Farmer´s Market is a multicultural meeting point with a huge variety of local specialities. Every Tuesday, Friday and Saturday from 8 am until 2 pm. Wilhelmsplatz 14, 63065 Offenbach.
* The German Leather Museum offers a worldwide unique collection from five continents. Frankfurter Straße 86, 63067 Offenbach.
2.
One of the latest albums, I added to my iTunes, is from London Grammar, Californian Soil.
3.
Actually, I do not have a real favorite book. I still read the analogue newspaper as I love the smell of freshly printed paper.
Sebastian Herkner (born 1981) studied Product Design at HfG Offenbach University of Art and Design. During his studies he began to focus on designing objects and furniture, honing his keen sense for materials, colors and textures. For a short while he then worked for Stella McCartney in London. In the year 2006 Sebastian Herkner founded his own studio. Since that time, he has designed furniture, lamps and smaller items for manufacturers such as Ames, and Tradition, Cappellini, ClassiCon, Dedon, Ex.t, Fontana Arte, Gubi, Linteloo, Moroso, Pulpo, Rosenthal, Schramm Werkstätten, Thonet, Wittmann and Zanotta. Herkner also realizes interior architecture projects and museum and exhibition design. His works have won numerous accolades – among others the IF Award, the Iconic Award and the Elle Deco International Design Award (EDIDA). As Guest of Honor to imm cologne 2016, Sebastian Herkner provided the design for "Das Haus". Maison&Objet has elected him 2019 "Designer of the Year". In 2021 Sebastian Herkner won the most prestigious design award in Milan, the EDIDA award for Best Designer of the Year.
An unconditional love for traditional craftsmanship paired with a good feel for new technologies, a true flair for color, authentic materials and textures, an unadulterated curiosity for different cultures, for embracing and integrating them, and a commitment to taking responsibility for the things and people one works with, not to mention consideration and respect for all of the details and steps necessary to create an extraordinary object…: Since the success of the Bell Table for ClassiCon in 2012, Sebastian Herkner has never looked back, while remaining true to his word – and himself. Balance and intuition are important and enduring factors in his work, which he sees as a continuous dialogue that straddles the disciplines: It takes him to the far corners of the world in search of almost forgotten crafts techniques, of manufactories that have a tradition going back centuries, to the crafts Sleeping Beauties that he can awaken from their slumber. In the process he creates not just chairs, sofas, lamps, tables, vases and carpets, but an entire cosmos that shines a new light on how objects can appeal to the senses, and where beauty is cultivated from within the process itself and his empathy towards people.
// written by Martina Metzner
"There is a sensitivity and identity to my work that emphasizes the function, the material and the detail. I transport and interpret characteristics from various contexts of society and culture and implement them in new artifacts. This character infuses the most everyday objects with respect and personality. In this manner, seemingly contrary things can experience esteem." Sebastian Herkner, born 1981, studied Product Design at Offenbach Design Academy. During his studies he did an internship at Stella McCartney in London and developed a particular liking there for color, material and their connection. Since graduating from Offenbach in 2007 he has worked as assistant in the Product Design faculty and is in charge of projects in the realm of integrated design. As early as 2006 Sebastian Herkner established his own studio and has since then been involved in freelance projects for various companies and institutes. Alongside the design of exhibitions and trade fair presentations his second focus is on designing everyday objects. He is influenced in this by his observations of people and their actions. In this context it is important to look beyond your own disciplines in order to achieve a value-added for the user. Sebastian Herkner is not so much influenced by trends or current consumer criteria, because what interests him is a collage of simple techniques and traditional materials coupled with a simple mechanical principle and an unambiguous function. His idea of sustainability consists of employing traditional manufacturing techniques and their unique character. He then combines and interprets this by employing new technologies and finishing methods. In spring 2010 his occasional table Bell-Table was presented in New York in the collection of Spanish manufacturer ABR, which also received the red dot award 2010.
// written by German Design Council