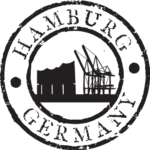 What are your three favourite insider tips of your city? These could be a restaurant, museum, exhibition, special place or view, artist, shop etc.

What is your favourite song at the moment?

What is your favourite book at the moment?
1.
My favourite place is the harbour in Hamburg. Meeting, sitting and chilling on the numerous stairs with friends is just wonderful. My top of the pops for all three places.
2.
"Say Yes to Heaven" from Lana Del Rey.
3.
I do not read a lot. For relaxation I use my smartphone and play with TikTok.