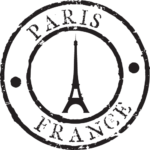 What are your three favourite insider tips of your city? These could be a restaurant, museum, exhibition, special place or view, artist, shop etc.

What is your favourite song at the moment?

What is your favourite book at the moment?
I.
* La Belle Epoque, the "in"-restaurant in Paris, 36, Rue des Petits Champs, 75002 Paris
* Bar 228 designed by Philippe Starck at the Hotel Meurice, champagne, champagne, champagne ;-), 228 Rue de Rivoli, 75001 Paris
* Cité de l'architecture et du patrimoine, a museum for architecture and culture at the Palais Chaillot at the Trocadéro with an apartment designed by Le Corbusier's and a fantastic view on the city, 1 Place du Trocadéro et du 11 Novembre, 75116 Paris
II.
"Slow" from Rumer
III.
"Lost Horizon" by James Hilton
Fascinated by the breathtaking splendor of centuries-old craftsmanship, Diana Dietrich decided to turn her passion for design into profession. In 2012, she finished her interior design studies with a diploma Bachelor of the Arts at the prestigious Paris American Academy.
The distinctive characteristics of her signature looks are like a bridge between the world of fashion and interior designs: mystery, softness or the play of light and transparency as well as the fluent fall of materials. Luxurious, feminine feel-good qualities are translated from haute couture into the world of living by Diana Dietrich.
With her husband, the French designer Emmanuel Dietrich, she creates a line of furniture for the German porcelane brand Rosenthal.
Diana Dietrich lives and works between Zurich and Paris. Her worlds, organic and imposing the Swiss mountains, urban and trendy her living centre Paris, are the sources of her inspiration.