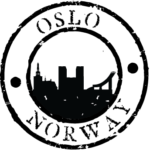 What are your three favourite insider tips of your city? These could be a restaurant, museum, exhibition, special place or view, artist, shop etc.

What is your favourite song at the moment?

What is your favourite book at the moment?
1.
* I love walking up (or down) "Ekeberg" – a park situated on a hill on the east side of Oslo. It offers fantastic views of the city, and is also home to the magical "Ekebergparken Sculpture Park". Kongsvelen 15, 0193 Oslo.
* If you're here in the winter you should try to rent or borrow some cross-country skis! Oslo is the only capital I know of where you can get on the subway in the city centre and then be skiing in the woods 30 minutes later. A popular trip is Sognsvann to Ullevålseter.
If you're here in the summer the same applies for good hiking trips, but when the sun is out Norwegians tend to flock to the ocean – Aker Brygge and Sørenga are great spots in the city on a hot summer day!
* Oslo has some fantastic restaurants, but I like it low-key so one of my favourite places is "Oslo Mekaniske Verksted". You can bring take-away food, and there is always a good vibe. Tøyenbekken 34, 0188 Oslo.
2.
Right now I'm a little obsessed with the German violinist Anne-Sophie Mutter and her collaboration with the film composer John Williams.
3.
What is your favourite book at the moment?
My favorite book… It's hard to pick just one, but I'll narrow it down to two =) "Sapiens" by Yuval Noah Harari and "Thinking, Fast and Slow" by Daniel Kahneman.
Lars Berge is a Norwegian stage and screen actor. He graduated in 2014 from The Juilliard School in New York as the first Norwegian ever. Upon graduating Lars won the prestigious Michel and Suria Saint-Denis Award for demonstrating 'the most outstanding achievement in drama, and a strong commitment to the ensemble during his four years of training'.
Lars played the title character in "Cherry Pop" (official selection at Outfest 2017 and winner of Best film at London IFF 2017) and is a regular on the Norwegian crime drama series "Wisting" as well as "Magnus", a sci-fi crime and comedy thriller, which was selected for the main competition at Canneseries 2019.
Growing up as the son of a theatre composer, Lars considers the theatre his artistic home and has acted on various stages in both the US and Norway since 2006.